1000 Books Before Kindergarten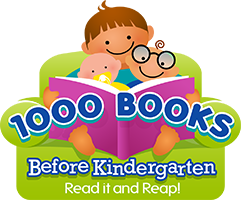 The Meherrin Regional Library System is proud to present the 1,000 Books Before Kindergarten program!
The concept is simple, the rewards last a lifetime!

Reading helps assist in brain development and can create fun memories between you and your child.
Set a goal to read 1,000 books before Kindergarten with your child – it's as simple as that!

How to get started:

1. Sign up for the program at either the Brunswick County Library or the Richardson Memorial Library. Once you sign up, you will receive a welcome packet and your first reading log.

2. Each time a book is read to your child, check off or color in a circle on your log.
Books read at daycare, Storytime, and even Grandma's house count! You can even read the same book more than once!

3. Once you finish a reading log, return your completed log to the library to receive a new one! Each log represents 100 books that your child has read.

4. When your child finishes reading 1,000 books before Kindergarten, he/she will receive a special certificate!

This program is free and open to children from birth until the child enters Kindergarten.
1000 Books before Kindergarten app is available through the App Store and Google Play
---
Printable Reading Logs 1-1000 (click here)
Brought to you by the 1,000 Books Foundation